Partnering to Give Back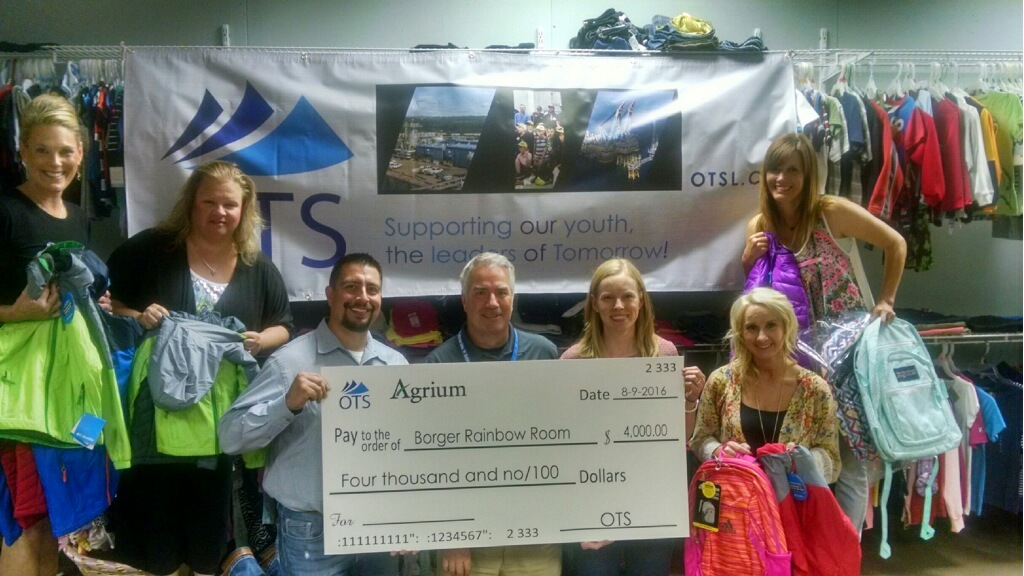 Recently we had the opportunity to partner with one of our clients, Agrium to raise funds for an outreach program in  Borger, Texas. Agrium and OTS recently held a barbeque to raise funds for the Rainbow Room of Borger for a backpack and coat drive campaign. Dyer's BBQ, United Supermarket and The Plaza all assisted with donations for the cause. The BBQ served more than 100 people and raised $2000.00 through purchase and donations from participants. Agrium pledged to match the funds raised by the BBQ bringing the total to $4000.00. 
OTS decided to match the grand total and donated an additional $4000.00. Together $8000.00 was raised to support the Rainbow Room of Borger for both the backpack and winter coat campaign for Hutchinson County children currently under CPS Care and a general donation to provide ongoing support for the program so they can continue to fulfill other needs facing local children in crisis.
The Rainbow Room mission embraces courage and commitment aimed at rescuing and restoring children suffering from abuse or neglect by equipping caseworkers who represent the first ray of hope for a better life. We equip caseworkers in tangible ways that serve as a lifeline from professional caseworkers to hurting children.
Photo: OTS employees Roland Salinas and Jeff Hamilton shown presenting cheque to Rainbow Room volunteers.