Proud to support our local communities!
It is OTS' intention to leave a positive and lasting impact to all communities in which we operate through employment opportunities, education, training, development, and community investment.  OTS is thoroughly committed to all communities that may be affected by our business operations and we ensure all members of our organization are well educated and aware of the issues that communities face both short and long term.
OTS is a proud supporter of a number of community events, volunteer opportunities, and non-for profit organizations through-out Canada. Our current and ongoing community investments include:
Alberta
---
Miskanaw Golf Course Junior Golf Program (Fort McMurray, AB)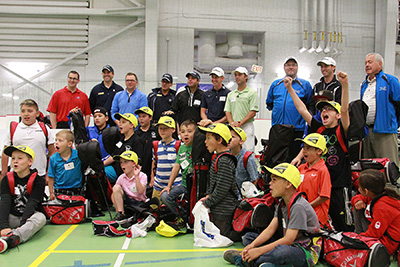 OTS is proud to be the core sponsor of the Junior Golf Program at the Miskanaw Golf Course in Fort McMurray, AB since 2011.  The sponsorship provides youth in the local area an opportunity to participate in the game of golf while building connections with adult peers in a supportive and encouraging environment.  OTS staff in Fort McMurray volunteer on an on-going basis through-out the summer season to help make the program a success.
OTS was also a key sponsor in the RBC Aboriginal Youth Golf Clinic at Miskanaw in June 2014, providing new Callaway Golf sets to 80 youth participating in the event, including OTS golf towels, bag tags, and golf balls.  OTS' Steve McKinnon (Director of Technical Operations), Paul McCarthy (Senior Operations Specialist), and John Keirstead (Business Development) participated in the day's event and it was a great success.   www.macdonaldisland.ca/golf
Oil Barons Junior "A" Hockey Team (Fort McMurray, AB)
OTS has been a supporter of the Fort McMurray Oil Barons since 2011.  OTS' sponsorship provides opportunities to local players, supports the local community, and assists with the costs of running a junior "A" hockey team. www.fortmcmurrayoilbarons.ca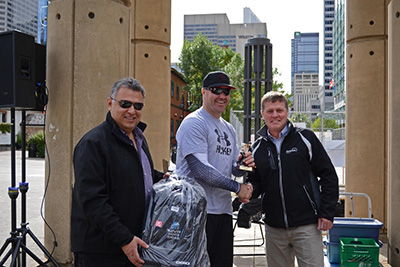 United Way (Calgary, AB)
2013 marked the first year that OTS was a sponsor for the Suncor United Way Street Hockey Challenge, to assist Suncor in raising funds for the Calgary United Way.  OTS sponsored the MVP and Third Stars for the event, and provided giveaways to all players. In 2014 and 2015, OTS was the Cup Sponsor for the tournament and also provided giveaways to all players at the event. OTS plans to continue supporting this very worthwhile event.
Red Cross (Fort McMurray Wildfire Relief)
In response to the wildfires in May 2016 in Fort McMurray, Alberta OTS Ltd launched a corporate challenge campaign to raise funds for the wildfire relief efforts. Dubbed as the OTS Corporate Challenge the campaign aimed to bring together Cape Breton businesses to make the largest impact possible through donations to the Red Cross. OTS challenged other local businesses to contribute what they could and the grand total of the OTS Corporate Challenge was announced at the CBRM's "Givin' Back to Fort Mac" concert on Sunday May 15th at Centre 200 in Sydney, NS. OTS was proud to announce together with the help of over 30 local Cape Breton businesses the OTS Corporate Challenge raised $121,000.00 for the Red Cross in support of Fort McMurray relief efforts. Sincerest thanks to each and every local business that participated with our Sydney office.
Atlantic Canada
---
Cape Breton Hospital Foundation (Cape Breton, NS)
OTS feels that it is important to give back to all of the communities it operates in. With our head office located in Sydney, Nova Scotia, we have supported and will continue to support the Cape Breton Regional Hospital Foundation a foundation that touches many in our local communities. http://becauseyoucare.ca/
Cape Breton Victoria Regional School Board Breakfast Program (Cape Breton, NS)
OTS aims to support initiatives that will support our future leaders of tomorrow. Helping to provide children with a proper start to the day is one way we can help. OTS has provided funds to the CBVRSB Break Program on an annual basis beginning in 2012.
Grant Hynes Memorial Scholarship (Glace Bay, NS)
Grant Hynes was from Glace Bay, NS and was a past employee of OTSL for over 6 years. When he passed away OTS decided to create memorial scholarships in his honor.  OTS offers (4) $250 scholarships annually to students graduating from Glace Bay High School. The scholarships are offered to students who are perusing post-secondary education in the trades.
Mental Health Foundation of Nova Scotia
The Mental Health Foundation of Nova Scotia is a registered charity dedicated to improving the lives of Nova Scotians living with mental illness and their loved ones. 
United Way 
(Cape Breton, NS)
OTS contributes to the United Way of Cape Breton in order to have an impact on the entire community. The United Way of Cape Breton supports a variety of community initiatives and helps to support Cape Breton as a whole.
Various sporting teams throughout the Maritimes (Volleyball, Hockey, Soccer, Football & Baseball)
OTS has sponsored and supporting various child and youth sporting teams throughout the Maritimes including but not limited to: Riverview High School Hockey, Cape Breton University Athletics, Sydney Sooners Baseball, CB Force Volley Ball Club, Football Nova Scotia, James M. Hill High School Hockey, Bedford Blizzards 16 & under Volleyball, and Pink Ribbon Hockey Tournament (Women's Hockey).
Saskatchewan
---
United Way (Saskatoon & Area, SK)
United Way Saskatoon & Area has a mission to improve lives and build community by engaging individuals and mobilizing collective action. Their three mains focus areas are: 1) From poverty to possibility 2) Strong communities 3) All that kids can be.